I asked this question on my Facebook author page, but I will ask here too - who is the greater trickster? The raven, or the fox? At first it was because of sheer morbid curiosity, but somehow it now seems important for something that will come in book 3. So that means answer! ;)
On Tuesday, my new laptop came in. My previous laptop had been on its last legs (it took one hell of a beating for almost 3 years), and I was planning to make it last until mid-April...but "divine" intervention in the form of Shadow happened and it was the
one
time I wished he had cleared the jump over the couch. Thankfully enough of it survived where I was able to back-up and transfer all of my files. I have also entered the world of Windows 8...and I very much miss Vista. Slowly but surely, I'm getting used to it. Emphasis on "slowly".
Mistress of Blackwen
has been taking some new turns lately. Even with missing one day of work due to the new laptop, I dished out a total of 7,463 words last week. I even made it past the 200 page mark, yay! I'll admit to killing off a couple characters. I wasn't in a bad mood either, I promise. They weren't significant characters truthfully, but their deaths were just a means of necessity to involve the more important characters in this crazed war I've created. Somehow two supporting characters of mine ended up being more important than I first realized...got to love when that happens. I'm also at the point where I really look forward to the day I do kill off this one particular character. Knowing me, it's not going to be a clean one either. It's fun sometimes, being the one with all the power over who lives, who dies, who schemes, and who just simply entertains.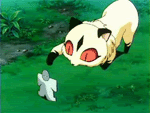 For now, I'll just settle with letting the character live...sometimes you have to give your reader a plethora of people they need to hate. Makes the anticipation of their execution all the more exciting, after all. Good can't win all the time, you know. It'd be boring otherwise.
And speaking of "deaths", the teddy bear formally known as "Batista-Bear" (given to me by an ex back in the day), had met his end in the most amusing of ways. Being proud of Shadow would have been the understatement of the year, heh. He's currently enamored with this lobster plush toy now, which we bought to replace the destroyed wrestling bear, and it has already met with some casualties. It's fun though, and watching him gives me some ideas for writing since I do love animal spirits (particularly the tricksters).
I'm also glad that March is nearly over. I need me some Game of Thrones. I'm already anticipating the screams and riots that will ensue for the people who will watch and didn't read
A Storm of Swords
(that one was my particular favorite of the series so far). If that pertains to you...well...start saving for the tissues and booze now. That is all.